Pragli Newsletter
by Doug and Vivek
Howdy!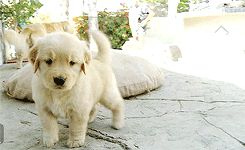 Please consider filling out our user survey.
We couldn't find a good puppy-fills-out-survey gif, so we asked this pup to give you a woof instead.
If you've ever used or thought about using Pragli, please consider filling out our user survey. Every result helps us out immensely! It should only take a minute. 🙏😍💪
Feature Spotlight
🔒 Lock
The big addition to Pragli this month is locking. Channels and conversations can be locked for privacy. Users cannot just join locked meetings - instead, they must knock.
🛎️ Knock
You can knock by clicking on a locked conversation / channel, or by clicking the knock button on the respective user. You'll be shown a notification until they answer your knock.
📣 Request
If someone else is in a channel or conversation (locked or unlocked), and you want to get their attention, you can now request them.
When they accept your request, they'll jump into your conversation / channel
If you're not in one, you'll both jump into a new conversation.
We want to know what you think! Share your feedback with us via the blue chat bubble in the bottom right of Pragli.
Content Rundown
(Graphic from Asynchronous communication is also distracting)
Blog Posts
Other
Changelog
🔒 Lock, 🛎 Knock, 📣 Request: see spotlight
👶 New setup flow: we have a new setup checklist in the bottom-left of the UI. Complete it for a surprise!
🎉 Edge Chromium Support: we didn't actually do anything except whitelist it, but we'll take credit for supporting it!
⚡ Big internal refactor: Should make things faster in both web and desktop, and it will certainly make us move faster in delivering features in the future. Even more speed improvements coming very soon.
💵 Save money: made some changes to reduce our infra bills, which don't help you... but help us? Maybe this shouldn't be here. 🤔
7 obtuse 🐛🦗🐜: Keep the bug reports coming!️